PARA CLINICAL DEPARTMENTS

GEMS Medical College is managed by a dedicated by medical professionals of GEMS with rich teaching, clinical and research experience reputed medical colleges and hospitals in the country.
The faculty comprises of senior professors heading each department. Associate professors and Assistant professors are actively involved in teaching and research. A very highly motivated and experienced individual in the field of medicine.
About the Department
The department of Pharmacology, Great Eastern Medical School and Hospital was established in the year 2010. It is a well equipped department with experienced faculty. Department located at ground  floor of college.
Pharmacology deals with the study of drugs and drug development Basically it says what the drug does to the body and what the body does to the drug when administered. Pharmacology was traditionally associated with study of drugs in animals while the clinical application was regarded as an entirely independent and mystical skill of the practitioner. Now with the concept of "Evidence Based Medicine" the aim of teaching Pharmacology to Medical students is to provide a rational basis for choosing and using drugs skillfully to relieve patient's ailments based on the information obtained from the clinical trials. HOD Pharmacology supervises Pharmaco Vigilance Committee which meets regularly to review the drug policies.
Research Lab:  This department is well equipped to meet the requirement of students  and carry out clinical research.
 Experimental Lab: Analysis of Drugs and Rabbit Eye Experiments.
Pharmacy Lab: Preparing Pharmaceutical products .
Museum: Well Furnished Museum having various Specimens, Photographs, Flow  Charts and Specimens of Indigenous as well as modern drugs.
 Departmental Library: A well furnished Library with 100 Books.
Seminar and  Demonstration rooms, Lecture Theaters with Audiovisual aids.
Teaching Faculty:
1.     Dr. K. Neeraja Ratna Kumari, Professor & HOD
1.     Dr. N. Indira Kumari, Professor
2.     Dr. G Neeraja Rani, Associate Professor
3.     Dr. B V S Chandrasekhar, Assistant Professor
4.     Dr. T Uma Maheswari, Assistant Professor
5.     Dr. Lakshmana Chintala, Senior Resident
6.     Dr. Boddepalli Sireesha, Senior Resident
7.     Dr. Chandu Sasank, Tutor
7.     Dr. Kotra Vijay Kumar, Tutor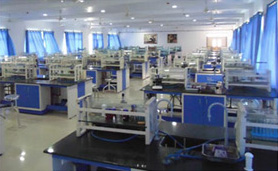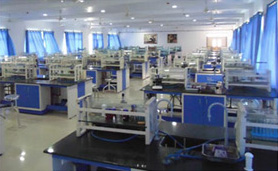 About the Department
Vision of the Department-
To Teach Forensic Medicine and Toxicology to U.G. students
To Train Internees in Medico Legal Work
Advising and Guiding the Doctors of GEMS in Medico legal work (including Supervising the Casualty)
To monitor the ongoing Research Projects.
UG Teaching (per Week)
III semester: One theory
IV semester: one theory and One Practical class
V semester : One theory and One Practical class
One hour extra class for slow learners.
Syllabus(SEMESTER WISE)
Curriculum planning is prepared (as per the MCI and NTR UHS recommendations and Curriculum Committee recommended Value added syllabus)and followed in the same method.
Question Bank- Available in the department
List of Departmental Library Books
Total No. of Books                                       – 80
Total No. of Titles                                        – 61
 No. of Journals/ periodicals                      – 2
Department is equipped with Computer and Internet, have downloaded e-Journals
Individual Collection of Books also available in the Department
Museum
Compact and Comprehensive Museum containing-351 specimens
Skeletal remains                            – 81
Poisons                                          – 114
Charts                                             – 22
Models                                            – 11
Photographs                                    – 42
Wet mounted
Specimen                                       – 08
Weapons                                        – 21
X- Rays                                           – 52
All the specimens are tagged with legends and numbered sequentially. Catalogues are available showing the Index number of each specimen.
  Teaching Learning AIDS and Methods-
All methods of teaching such as didactic lectures, interactive method, and project based learning, computer assisted learning, and experimental learning, seminars and dissertations are used by the teachers. ICT based teaching is given a thrust as a principal mode of teaching. Every attempt is made to attend individual students and find out their strength and weakness. In the Department planning the students are divided into groups basing on their common requirements. This division is not visible to the students as the Practical and tutorial groups are always divided as per the roll numbers. The teaching faculties design plans to touch the needy students during the learning sessions. It is meticulously planned prior to each session so that there will not be any feeling of inferiority among themselves. However depending on the Internal assessment performances (One of the Summative examination) a modified method of revision of topics are done for the students securing less(than average) marks.
Evaluation of Students and Curriculum-
Both formative and Summative evaluation is done through conducting Examinations .Both subjective and objective type of questions is used. Most advanced methods are used in designing the question paper as a feasible, acceptable, valid, reliable, objective, unambiguous and bias free. Before announcing the results of each examinationa Grievance redressal session is being held, giving a chance to each student to appeal on evaluation process if any.
Achievements-
Out of total 300 students trained so far only 39 students are left so far to clear the Summative examination conducted by Dr NTR UHS. The pass percentage is 87.
Faculty Development
            Trained on medical education at regional center AMC Vizag
HOD is one of the members of Institution label medical education unit.
Research activities (on going)
Comparison of Age of eruption of teeth in school children of Khammam in TS and Srikakulam in AP.
A study on ratio between organ weight and body weight in dead bodies of human being.
Plan of action in the next five years
Starting PG course in Forensic Medicine
Conducting regular Medico legal workshops for Doctors, Lawyers and Police in Srikakulam Dist.
Organizing State and National Conferences.
Under taking research in various Medico legal fields with involvement of students.
Teaching Faculty:
1.     Dr. P. Srinivasulu, Professor & HOD
2.     Dr. B. Jeeveswara Rao, Assistant Professor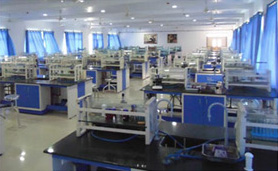 About the Department
The department of  Pathology, Great Eastern Medical School and Hospital was established in the year 2010. It is a well equipped department with experienced faculty. Department located at ground floor of college.
Objectives:
2.     Teaching to undergraduates, Para Medical staff..
Facilities: The department has various diagnostic sections which are located in central
                  laboratory in hospital and also in the College premisis.
MUSEUM: Well furnished Museum having various Specimens , Photograps ,charts,
 Has 232 specimens each have it 10 cat logs. Charts 65. Scientist photographs 14.
DEPARTMENT  LIBRARY: Well furnished having Books  107
1.     HISTO PATHOLOGY
a)     Receives all varieties of specimens from various departments for study and biopsies about 5 to 10 specimens for a day
b)    Special stains like PAS, PERLS, SUDAN 3, SUDAN 4, RETICULAM, VANGESONS, etc for confirmation
c)     Study of  biopsies starting from true cut to excision biopsies.
2        CLINICAL PATHOLOGY
HAEMOTOLOGY
a)     All haemotalogical parameters like hemograms, CBP, Sickling tests
b)     Urine analysis including microscopic exam.
c)     Study of blood and urine parasites.
   3   .CYTOLOGY
FLUID CYTOLOGY,
    a) Ascitic fluid ,
    b) Pleural fluid,
    c) CSF,
   d) Synovial fluid,
   e) CYSTIC FLUIDS, study of the fluids for malignant cells
        SEX Chromatin study
              F.N.A.C , PAP Smears, vaginal smears,
 4.  BLOOD BANK:
a) 3 to 8 donors / day
 b) Issuing  blood bags 3 to 5 per day
INVESTIGATIONS IN BLOOD BANK
 HIV, Hbsg, HCV, VDRL, MP,Groping, HB, BP, Cross Matching, Combs tests
Done and sufficient staff available
5.     AUTOPSIES:  BUILDING IS AVAIALBUL FOR AUTOPSIES.
Teaching Faculty:
 1.     Dr. Pramod Jayasing Rao Shinde, Professor & HOD.
2.     Dr. Dillip Hari Mandke, Professor
3.     Dr. E. Giri Kumar, Professor
4.     Dr. P.J. Naidu, Associate Professor
5.     Dr. P. Somasekhar, Assistant Professor
6.    Dr. Shamili Moningi, Assistant Professor
7.     Dr. V.R. Raja Sekhar, Sanuvada, Assistant Professor
8.     Dr. S.G. Santosh, Assistant Professor
9.     Dr. Harshitha Vaibhav, Assistant Professor
10.   Dr. B. Gowthami, Assistant Professor
11. Dr. G. Anupama, Assistant Professor
About the Department
The department of Microbiology, Great Eastern Medical School and Hospital was established in the year 2010. It is a well equipped department with experienced faculty. Department located at first floor of college.
Objectives:
2.      Under graduate teaching and Paramedical teaching.
Facilities: The department has various diagnostic sections which are located in central laboratory in hospital and also in the department.
1.      Bacteriology
a.       Culture & sensitivity – Aerobic
b.      Culture – Anaerobic
c.       Direct microscopy
d.      Grams staining
e.       AFB staining
 2.      Serology
a.       VDRL
b.      RPR
c.       Widal
d.      ASO
e.       RA
f.       CRP
3.      Virology
a.       HIV (Rapid & ELISA)
b.      HBsAg (Rapid & ELISA)
c.       HCV (Rapid)
d.      Dengue (NS1 antigen & IgM and IgG antibodies)
 4.      Immunology
a.       Mantoux
b.      HCG
 5.      Mycology
a.       Fungal culture
b.      Direct microscopy
           i.      KOH mount
          ii.      LPCB mount
6.      Parasitology
a.       Direct Microscopy
b.      Cold acid fast staining
Museum: Has 200 exhibits which include charts, models and specimens.
In the past one year the department has published 4 papers. Designated Microscopy Center (DMC) has also allotted recently under Revised National Tuberculosis Control Progreem (RNTCP).
 Teaching Faculty:
 1.     Dr. P. Samatha, Professor & HOD
2.      Dr. I. Jyothi Padmaja, MD. Professor, Principal
3.      Dr. B. Radhika, Assistant Professor
4.      Dr. S.S. Vijaya Sri, Assistant Professor
5.      Mr. P. Bala Chandra Sekhar, Assistant Professor
About the Department
Community Medicine encompasses a wide range and broad spectrum of activities for prevention of disease and promoting health of general population by virtue of its multifarious measures for communities, masses and individuals. It covers wider practical approach of Public Health, besides regular teaching and training activities for undergraduate & postgraduate Medical College students, as well as Interns. The Department also caters to the essential health needs of population located under the field practice area of Rural Health Training Centre, Singupuram as well as that under Urban Heath Training Centre, Amdalavalasa.
 Overview of the Department
 The Department of Community Medicine is located on the second floor in the Great Eastern Medical School and Hospital, Medical College building at Ragolu, Srikakulam. It provides quality medical education and health services through RHTC and UHTC with the help of adequate teaching and non-teaching staff. It is well equipped with a museum, departmental library, demonstration rooms, research laboratory and audio-visual teaching aids. The Department owns 2 vehicles and 1 ambulance for ferrying students and patients from field practice area and organization of various surveys and health camps.
 Course Content:
 Includes topics as per NTRUHS/MCI guidelines, such as Environmental Health, Biostatistics, Epidemiology, Communicable & Non-communicable disease, Community Health and Health administration.
Facilities:
 State of Art Museum with models & posters
Up to date library having books, reference books, journals & educative material.
Research laboratory for Undergraduate & Postgraduate teaching & training, for research work as well.
Activities
 A) Academic
 Activities are based on Preventive, Promotive, and Curative & Rehabilitative aspects of
Community Medicine.
Teaching & Training
Undergraduate teaching as per MCI/NTRUHS guidelines Besides,
Industrial visits and visits to other places of Public Health Importance
Family & School Health Survey.
Special activities for students like seminars, Public Health Quizzes, other academic events/competitions.
 B) Research
Research Projects/activities related to Public Health & Preventive & Social Medicine are undertaken by Community Medicine Department regularly by the faculty, UG students & Interns.
Interdepartmental Research Projects
Active participation in Research Society activities of the Institution.
Statistical guidance & help to research activities of the College PG Students.
Services to common and needy people are provided through RHTC and UHTC and special services for ANC,PNC,Underfives and Geriatric population
C) Administrative
Internship Training Programme
Participation in National Health programmes like RNTCP, NACP, NRHM.
NSS Activities
Students Mentorship & appraisal
Event management of the Institution.
Teaching Faculty:
Dr.Dhanunjaya Sharma, Professor & HOD
Dr.Akshay Salgar Hanumantha rao,Associate Professor(RHC)
Dr.Satyajit Patnaik,Associate Professor.
Dr.Samina Mustafa Ausvi,Assistant Professor(UHC)
Dr.Prabath Ambhurkar, Assistant Professor
Dr.Kundap Ritesh Padmarah, Assistant Professor
Dr.Meraj Mustapha Ausavi, Epideomologist
Mr.Dhavala Murali Mohana rao,Statistician
Dr Jagajeevana Prasad Battu,Tutor
Dr Banavathu Ramadas Naik,Tutor
Dr.K Appa Rao,Tutor
Dr.Kola Alekhya,Tutor
Dr.Naka Santhi Sree,LMO
Dr.U S D N Malleswari,LMO