PRE – CLINICAL DEPARTMENTS

GEMS Medical College is managed by a dedicated by medical professionals of GEMS with rich teaching, clinical and research experience reputed medical colleges and hospitals in the country.
The faculty comprises of senior professors heading each department. Associate professors and Assistant professors are actively involved in teaching and research. A very highly motivated and experienced individual in the field of medicine.
About the Department
The department of Anatomy offers high quality education which enables the student to understand the basic tructure of the human body.Understanding of the anatomy of different body parts and organs and tissues of the body are important to diagnose the health problems and medical and surgical treatment of those diseases.Understanding the anatomical relations forms the basis for all the surgical broad specialties in medical sciences.
The department has a full fledged teaching programme which include.
Theory classes in Gross Anatomy, Histology & Embryology.
Tutorials in Gross Anatomy, Radiology & Clinical Anatomy.
Osteology & Radiology demonstrations.
Cadaver dissection.
Small group teachings
Practical in Histology.
Museum study.
The department is well equipped with state of the art Lecture Galleries,Demonstration room, Dissection hall, Histology practical lab and Museum.The students are encouraged to take part in quiz programme and seminars
Regional & National conferences. Part completion tests, Internal assesment for both theory & practical are conducted at regular intervals to check the progress of the student. MCQ tests are also held which helps the students in their PG Entrance exam preparation. Weak students are helped by mentors in overcoming their obstacles. The faculty of the department of Anatomy also take part in integrated teaching programmes of the institute, different academic progremmes in the institute like CMEs and guest lectures. Students are also motivated to take part in celebrating National programmes and WHO day programmes.
Future plans :- The anatomy department is having a plan to establish a well equipped, functional and service oriented Genetic Lab in next 5 years which will help us to go for cytogenetic studies of congenital anomalies and syndromic patients and also to evaluate the infertile patients and give them Genetic Counselling.
Teaching Faculty:
1.     Dr. Ausavi Siraz Mustapha, Professor & HOD
2.     Dr. G.V. Siva Prasad, Professor
3.     Dr. P. Anil Kumar, Professor
4.     Dr. E. Ravitheja, Associate Professor
5.     Mr. U. Ravi Kumar, Assistant Professor
6.    Mr. Ch. Maheswara Rao, Assistant Professor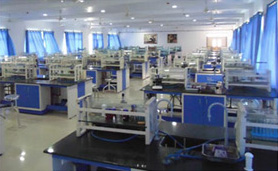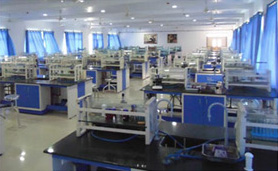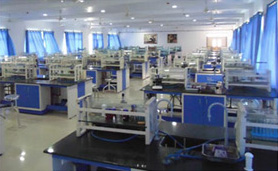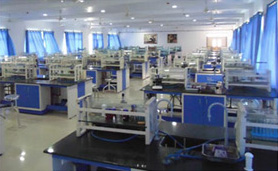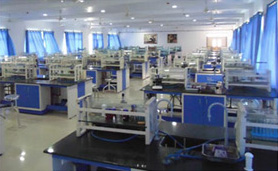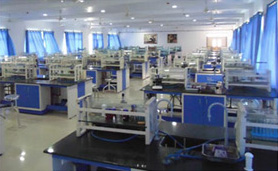 General Information:
Biochemistry is a branch of medicine involved with the study of chemical processes within and relating to living organisms for understanding human health and diseases as normal biochemical processes are the basis of health and most of the diseases have a biochemical basis. It includes study of different types of molecules in hopes of bettering technology and medicine. In routine clinical practice, biochemistry deals with analysis of bodily fluids for diagnostic and therapeutic purposes.
About the Department:
The Department of Biochemistry, Great Eastern Medical School and Hospital was established in the year 2010. It is located at ground floor of college.  The  faculty in this department are qualified, well experienced  and are involved in teaching programmes fulfilling the requirement of undergraduate as well as postgraduate courses.
Objectives:
Undergraduate and Postgraduate training.
To provide Clinical biochemistry Laboratory services to patients attending Great Eastern Medical School and Hospital.
To promote Research activities.
Academics:
Undergraduates are trained to acquire knowledge to integrate molecular events with functioning of the human body in health and disease as well as taught basic practical skills for biochemical investigations in order to support clinical diagnosis of common disorders in the community. The various undergraduate courses handled in this department include MBBS, BPT, BSc (MLT) & BSc Nursing.
The methodology of teaching includes
Didactic Lectures using audio visual aids
Hands on training for analytical practical experiments
Horizontal and vertical teaching for clinically important topics
The undergraduates undergo a program spread over one year encompassing:
Theory classes
Practicals
Tutorials
Seminars
Short group teachings
Clinical laboratory data interpretation
Special Demonstration Experiments with hands on training for undergraduates include:
Operation of Colorimeter and Spectrophotometer
Analysis of samples by semiautoanalyser
Protein electrophoresis
Paper and thin-layer chromatography
Basic Molecular biology techniques – DNA isolation, PCR, Agarose gel electrophoresis
Postgraduate training:
            The postgraduates are trained to acquire an in depth knowledge of the fundamental principles of the subject of biochemistry, so that they can apply this knowledge for understanding the basis of health and disease. This also helps them to pursue a career in one or more of the following facets of biochemistry teaching, diagnostic work and research.
Postgraduate teaching includes:
Seminars
Journal club
Clinical case discussion
Group discussion
Microteaching
Clinicobiochemical correlations
Independent handling of laboratory equipment and Procedures
Postgraduates are also encouraged to present posters and papers in regional and national conferences.
Teaching and learning Resources / Facilities available:
Lecture galleries with A/C, LCD projector and audiovisual equipment.
Demonstration hall with LCD projector and audiovisual equipment.
Student Practical Laboratory
–For 75 students
–Ante Room with chemicals and glassware
— Ante Room for preparation of reagents
–120 books, national and international textbooks
–Online journals—www.ntruhslibrary.com
–Desktop with internet connection
Laboratory Services:
Clinical biochemistry lab, a part of central diagnostics laboratory is located at first floor of GEMS Hospital.It has experienced technical staff and provides diagnostic services around the clock.It has sophisticated IT enabled services which permits viewing of blood test results immediately after completion of analysis and also previous laboratory data of a patient if necessasary. Laboratory is strictly following Internal & External Quality control  (CMC,Vellore) programmes.
Investigations done in Biochemistry laboratory:
 Routine investigations:
Renal Function Tests
Liver function tests
Lipid profile
Diabetic profile HbA1C            C-Peptide & Anti GAD assay –  available soon
Anemia profile
Cardiac profile (CK, CK-MB, Trop T &I)
ANA profile
Serum electrolytes
Amylase, Lipase, LDH, ADA
Calcium, Phosphorus, Uric acid
Serum protein Electrophoresis
CSF Electrophoresis
Other investigations
Coagulation profile: PT, APTT
Blood gas analysis
Analysis of other fluids: CSF, Pleural, Peritoneal and Synovial Fluid
Urine analysis
Special Investigations:
Hormones : Thyroid Profile , FT3, FT4,
FSH, LH, Prolactin, Testosterone, Cortisol, Estradiol, Progesterone
Tumor markers: CA-125, PSA,
 Equipment available:
Autoanalyzer (Roche Cobas C311)
Autoanalyzer (CPC)
Semiautoanalyzer (Erba Chem 7) – 2 no
Nephelometer (mispa-i)
Electrolyte analyzer (Easylyte)
Blood Gas Analyzer (ABL 80 flex Radiometer)
Coagulation analyzer (Meril)
Spectroflurometer (Minividas)
Thermocycler
Electrophoresis system, Densitometer
Chromatography Apparatus
Colorimeter
Spectrophotometer
Centrifuges
Incubator
Hot air Oven
Deep freezer (-20oC) & Freezer (4o – 80c)
Millipore water purification system
Research:
The department has a well equipped spacious research lab in 3 rd floor of GEMS college to carry out research projects. Currently, the biochemistry department is associated with Central Research Laboratory for pursuing advanced research using newer molecular biology techniques.The department also encourages UG students to take up ICMR – STS projects.
Six Publications are published in the national indexed journals in the last 3 years. At present there are 4 ongoing projects in the department.
Teaching Faculty:
1.      Dr. V. Sreeramulu, MD, Professor & HOD
2.      Dr. D. Padmasree, MD, Professor & HOD
3.       Dr. M.B.C.R.Naidu, MSc PhD, Associate Professor
4.      Dr. B. Jyotchna Devi, MD, Assistant Professor
5.      Dr. Thejaswini M, MD, Assistant Professor
6.      Mrs.CH. Kiranmai, MSc, Tutor
7.      Mrs.J.C.Swarnalatha, MSc, Tutor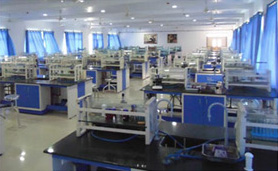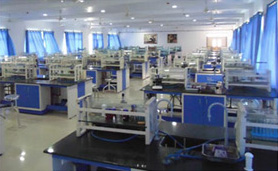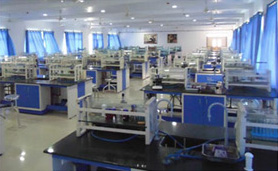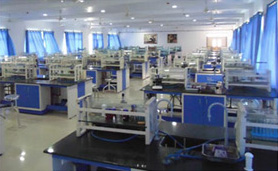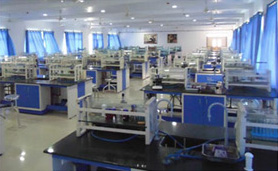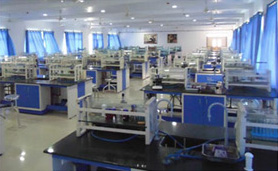 About the Department:
The Department of Physiology took shape and became fully operational right from the inception of the Medical College in August 2010. Since then the department is actively engaged in teaching Under Graduate students and carrying out Research activities.
Physiology department is situated in the left wing, 1st floor of the college building and is constructed according to the MCI specifications.
The UG (MBBS) course is fully recognized by the MCI. The Department has full fledged infrastructure and equipment.
All the faculty members are well qualified as per the norms of MCI. Faculty is well equipped to apply the subject on clinical basis and to demonstrate the subject practically.
TEACHING & LEARNING METHODS 
Traditional method of teaching is blended with recent advances in the field of Physiology
Didactic lectures, Practical sessions, Demonstrations are supported by enriched learning methods such as Tutorials, small group discussions, seminars, quizzes and monthly tests. Problem oriented analytical approaches are practiced to optimize the learning experience.
Regular evaluation process of every individual student, counselling and feed back on the progress of their wards to individual parents is implemented
Teaching Learning resources
Over Head Projectors
Laptop & LCD Projector
Desktop with internet facility
Charts & Graphs
  INFRASTRUCTURE
A/C Lecture Hall Complete with audiovisual aids : 175 capacity
Demonstration Rooms : Two Tutorial Halls for small group discussions with a capacity of 50 students each, equipped with audio visual facilities
Separate Laboratories along with preparation room for each laboratory for
Haematology
Clinical Physiology
Amphibian/Experimental physiology
Mammalian physiology
Research room
Library : With all routine text books, reference books -both Indian & International authors, Journals
Seminar Room
Teaching Staff – Individual Rooms for – Professors, Associate professor, Assistant Professor, Common Room for Tutors, & one room for non teaching staff
Department Office Room with Computer, printer.
ACADEMIC ACTIVITIES OF THE DEPARTMENT OF PHYSIOLOGY
 Teaching Programme  for  I yr  MBBS Students :
Theory Classes – 220 classes
Practicals – 100 Classes
Tutorials – 30 hours
Demonstrations – 20
Seminars – 5
Group Discussions – 4
Medical Quiz – 1
Monthly  Tests – 10
Internal Assessment Examinations both Theory & Practicals (theory – 3 and Practicals – 2 /year)
Assignments covering important topic areas.
MAJOR EQUIPMENTS IN THE DEPARTMENT:
Hematology Lab – 
Light and compound microscopes
Centrifuge
Hemocytometer
Hemoglobinometer
Digital photometer
Double Distillation water plant
ESRITE (ESR kit)and other routine equipments for hematology experiments
Clinical Lab – Apart from routine instruments used for clinical examination it is equipped with other special equipment's like:
Spirometer
Mosso's Ergograph
Perimeter
Stethograph
Peak flow meter
Grip dynamometer
ECG machine
Bicycle ergo graphs
Douglas bags
Electrophysiology Lab – For Teaching and Research activities, equipped with
ECG Machine
8 Channel Poly graph
Physiograph 3 channel,1 channel
Spirometer
Ergograph
Mammalian Lab – 
Super speed kymograph
Dales Organ baths
Monobath thermostat
Tambours
Amphibian Lab – Instruments for carrying out experiments on intact and isolated-Heart and muscle experiments
Student stimulators
Student kymograph
Teaching Faculty:
1.      Dr. Gali Parvathi, Professor & HOD
2.       Dr. C. Moses, Associate Professor
3.      Dr. R. Havilah Twinkle, Assistant Professor
4.      Dr. Pratima dinkar Khatake, Assistant Professor